Work Process Of Slag Crusher Plant
Work Process Of Slag Crusher Plant
We are providing machines like slag crusher. In starting days, slag crusher include single roller crusher & one of magnetic separator machine, but by the change of time slag crusher plant become fully developed & designed in fully automatic plant by added the below equipments.
1

Hopper & Vibrating Feeder
By Vibrating Feeder the big amount of slag will be fed evenly & continuously into the crusher. Vibrating Feeder possesses it's own superiority, straighter vibration, reliable operation, long life performance, The vibrating force can adjusted and the flux can be randomly changed & controlled and it is very convenient to control. The vibrating motor is the source of the vibration. The features of vibrating motor is low noise, low power consumption, good performance. Vibrating Feeder is simple in structure, reliability in operation , light in weight, convenient in adjustment, small in size and low maintenance.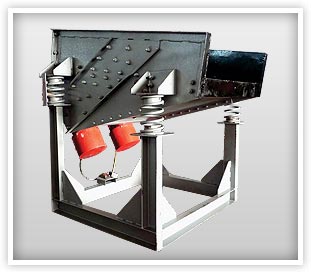 VIBRATING FEEDER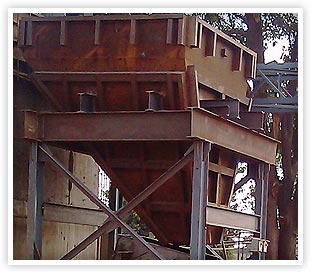 HOPPER
2

Jaw Crusher
Jaw crusher is primary used for crushing big amount of slag. When the material fed into the Jaw crusher, the heavy duty hardened jaw crushes the big amount of slag in medium size which then goes to the next process.
Two types of Jaw Crusher are used for crushing.
Single Toggle Jaw Crusher
Double Toggle Jaw Crusher.

Depends upon the hardness of slag (e.g. Arc furnace slag, Induction furnace slag) Jaw crusher also used by various industries for crushing coal, stone, hard coke, refectory, ferro manganese, iron ore, etc.

Single Toggle Jaw Crusher

Double Toggle Jaw Crusher

3

Over Band Suspended Magnet

Over band magnetic separator is used between the belt conveyer from feeder to jaw crusher and jaw crusher to roller crusher. It plays the important role in slag crushing plant. Over band magnetic separator collect the heavy metal contents from belt conveyor before feed to jaw crusher and roller crusher which improves the life to jaw crusher and roller crusher and reduce wear and tear of jaw crusher and roller crusher. Over band magnetic separator is also available in two models.

Permanent Magnetic Type Suspended Magnet.
Electromagnetic Type Suspended Magnet.

Permanent Magnetic Type Suspended Magnet

Electromagnetic Type Suspended Magnet

4

Roller Crusher

Roller Crusher is mainly used for crushing slag and it is secondary process after jaw crusher. As the material fed from Jaw crusher to roller crusher through belt conveyor, Heavy duty beater inside the roller crusher, crushes the slag, by the impact of which slag crushes into 6mm to 12mm.The roller crusher designed by BMPL is the best design in its class. Fitted with heavy duty bearing and steel casting bearing housing. The heavy fabricated robust body with high manganese inner lining and adjustable weights to absorb heavy strokes inside the machine. Roller Crusher is also used for crushing coal, stone iron ore etc.

Roller Crusher

5

Vibrating Screen

The Slag crusher from Roller Crusher goes to Vibrating Screen which screens the crushed material into two parts. The crusher material then goes to Magnetic Separator and over size material returns back to roller crusher again. Vibrating Screen also have two models.

Unbalanced Motorized Vibrating Screen.
Eccentric Shaft Type Vibrating Screen

As per customer's requirement.

Vibrating Screen is also used in various industries for screening different type of materials like Coal , Stone, Iron ore etc.

Unbalanced Motorized Vibrating Screen

Eccentic Shaft Type Vibrating Screen

6

Magnetic Separator

The screened material flows from Vibrating Screen that is mixture of slag and metal contents goes to Magnetic Separator. Magnetic Separator is most useful for separating iron from non magnetic product in bulk quantity for purity of end product, Metal having commercial value. As the material feed from Vibrating Screen to Magnetic Separator, the powerful Magnetic field attracts & hold Iron particles from the revolving shell & slag contents falls freely from the shell, while iron particles are automatically discharged at the other end.

Single Drum Type Magnetic Separator

Double Drum Type Magnetic Separator

7

Ball Mill Drum

Ball Mill Drum is a Hexagon type Drum which is used for polishing, Mixing and grinding of different types of products. The separated metal content from Magnetic Separator are not still 100% pure metal because few slag Contents are attached with iron Contents, due to rusted material. But with help of Ball Mill Drum one will get 99% to 100% pure metal from Slag, as the material from Magnetic Separator feed into the Ball Mill Drum. Heavy duty balls inside the drum grind the iron contents & removed the slag contents from them which comes out through the slots on the outer shell of Ball Mill Drum & Pure Iron will be left in the Drum, which will be collected after word.

Ball Mill Drum

8

Belt Conveyor System

The Belt conveyors are most commonly used powered conveyors because they are the most versatile and cheap. The product is conveyed directly on the belt so both regular and irregular shaped objects, large or small, light and heavy, can be transported successfully.

Belt conveyors can be used to transport product in a straight line or through changes in elevation or direction. In certain applications they can also be used for static accumulation or cartons.

Conveyor

Conveyor